Did you ever wonder how that graphic was put on that Tee shirt your friend was wearing? Or how that cartoon appeared on that inexpensive mug? Or how that picture was applied to that puzzle on which your child was working? Welcome to the introduction of the mighty heat transfer press.
What Is a Heat Press ?

Chances are you would not be on this site if you did not already have some idea of what a heat press is. The heat press is the bread and butter tool of the heat transferring of images. However, which press to use can be tricky. As with most technology today, there is a plethora of choices within the industry. We will give a brief introduction of the main differences between them.
One of the most important things to choose for in a heat press is to make sure it can provide an even and consistent temperature across the platen. This prevents cold spots from developing and will ensure consistent application of the heat transfer materials. Having proper application temperature is also critical in producing quality garments. Therefore, accurate temperature control is essential in whatever type of press you choose.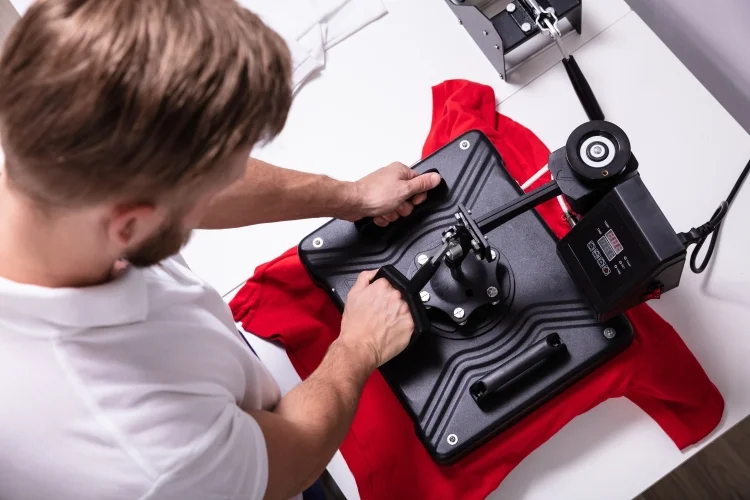 Manual or an Automatic Press ?
Some of the other features to look for when choosing either a manual or an automatic press:
Make sure it has a digital temperature readout
If it is automatic, make sure it has a digital pressure gauge
Make sure it has interchangeable platens
It should be easy to use
Both manual and automatic heat presses are widely available. Newly introduced into the market are semi-automatic presses, which allows for a manual closing process with an automatic opening. Presses can run anywhere from $200 for a manual press to over $100,000 plus for the serious entrepreneur and there are many types of heat presses on the market. Your choice of press will depend on the type of work you plan to do.
An example of one style of press would be the clamshell press that allows the top to open while hinged at the back. A step up would be the swing-away press, also called the swinger, which has the top platen swinging away from the bottom platen. Then there is the draw heat press that slides the lower platen toward the operator where he can apply the material without being exposed to the heat from the machine. Both the swinger and draw machine would be used for thicker materials like jackets and sweatshirts. There are other advantages and disadvantages to all of these styles.
Cap Heat Presses

If printing on caps is your choice, then we have cap heat presses that have a cap hold-down device with a floating top platen. This is a specific press just for doing hats. The last press we want to mention is the king of presses, the rotary drum press. These presses offer a three-zone heat control with adjustable pressure and an automatic belt tracking system. They can run anywhere between $15,000 and $100,000 and they are obviously for the more serious minded.
There are a number of different models and brands available to consider within the heat press market depending on what you plan to do and how much you are willing to spend. If you really mean business, you have to go with the rotary drum press, but be prepared to mortgage the house.