Looking for the best and most efficient way to digitize several of your old films but not quite sure how to do that? We've got you covered.
As a film photographer, people subconsciously expect you to always have a copy of their photos or captured moments even after you have printed a copy or two for them. But it can often be a bit of a chore to try to keep all the old films stashed away. For one, it becomes incredibly hard to find a specific film if you have thousands of them.
Fortunately, there are now ways to digitize those slides or films. So not only will you never lose a photo or image again, but you can also rest assured knowing you can find an image you want without any stress!
In this post, we would explore some of the best slide scanners available on the market today. With these superb scanners, you will easily preserve all your photo negatives even after you lose the film or slide.
There are lots of different slide scanners which can make selecting one very difficult. And as if that is not enough, they all have their advantages and disadvantages.
To help you make the best choice, we need to cover some of the important facts you need to know or consider before buying a Slide scanner.
Top Slide Scanners in 2022 by Editors' Picks
Best Slide Scanner Reviews 2022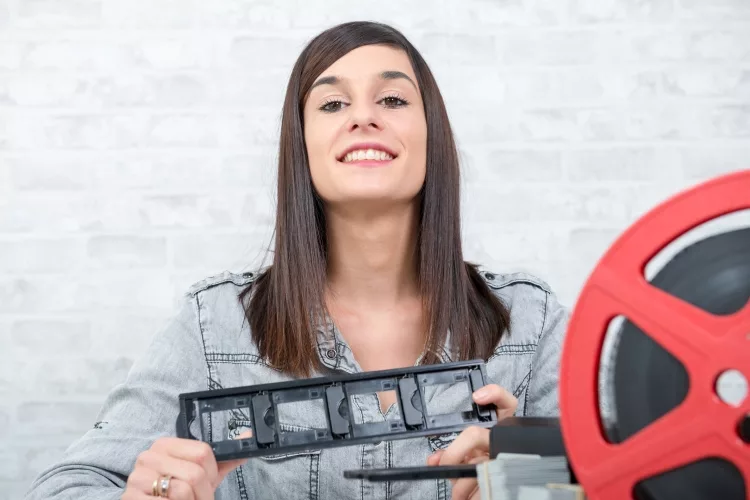 1. KODAK SCANZA Digital Film & Slide Scanner - Link
The KODAK SCANZA is one of the best slide scanners on the market right now. It is easy to use and can scan films or photos at a fast speed.
With this printer, you do not need to always connect it to your computer before scanning. It comes with a large LCD screen where you can see what the pictures will look like once the scan is complete.
What we particularly love about this slide scanner is that it lets you convert 35 mm, 126, 110, Super 8, and 8 mm film negatives/slides into JPEG format which you can save on your computer or print out with your photo printer.
It is essentially a flatbed slide scanner and would handle bulk scanning.
Out of the box, the scanner comes with a free HDMI cable, USB power cable, a video cable, AC power adapter as well as a film cleaning brush. What more could you ask for?
Pros
Comes with a 3.5 ′ LCD screen that shows you a preview of what the image would look like once the scan is complete. The LCD screen also lets you modify or edit the scanned work.
Scans with a 14MP sensor.
Comes out of the box with multiple adapters for and cables to get you started right away.
Portable.
Converts any type of film negative/slides into JPEG files.
Intuitive user interface.
Let's you share the digital copy of your scanned work.
Cons
It only works when connected to an AC power source.

2. Pacific Image PowerFilm CCD Automated 35 mm Film Scanner - Link
If you are only going to work with 35mm films, then you need the fastest 35mm film scanner on the market!
With a scanning speed of 24 seconds per frame at 6 Megapixels, this scanner would make quick work of hundreds of old photo negatives in no time.
Asides from being fast, it can scan films at a resolution of 4000 dpi. It also lets you print photos out although at a lower resolution (about 300 dpi).
This device comes with a patented infrared cleaning technology, MagicTouch, which automatically removes scratches or dust from any scanned image without you having to edit the scans.
As you can probably guess from its name, it would automatically scan and convert 35mm films to JPEG files.
Pros
Compact design
Incredibly fast scanning speed
Comes with technology that automatically edits scratches and blemishes from your scanned work
Cons
For a scanner that can only scan 35 mm films, it is very expensive
Not suitable for films larger than 35 mm.

3. Wolverine Titan 8-in-1 High-Resolution Film to Digital converter - Link
This scanner is terrific when it comes to producing high-quality scanned images. It does come at a cost though since it does not offer any editing features worth talking about. But let's face it, who needs editing features on a scanner when the scanner does a good job of capturing the film right?
If you are in the market for a scanner to help digitize your old films so you can use them on social media, then the Wolverine Titan is the way to go.
The device is a real beast and would easily handle any workload you throw at it. It comes with a crisp 4.3-inch display with which you can preview everything you scan. The scanner also comes with a detailed guide for first-time users so you don't waste any time learning to use the scanner properly. You can easily start scanning immediately!
The Wolverine Titan supports scanning of any film format including 35 mm, 110, 124, and APS films/Slides. It even supports 8 mm photo negatives. In other words, you can simply load all your stack of films and get them scanned in no time.
One other feature worth mentioning is that this scanner does not come with any editing software. What this means is that you don't necessarily have to connect it to a computer before using it. It is capable of scanning films and images and storing them on its memory unit.
NOTE: If the quality of the scanned work isn't as optimized as you would love, then you would have to connect it to a computer so you can then enhance the images using third-party photo editing software. This, of course, can be a huge dealbreaker.
Pros
One of the best digital scanners for social media on the market.
You do not have to connect the scanner to your PC before being able to scan your work.
Converts photo negatives and slides of all sizes into digital format (JPEG) within 3 seconds
Comes with a friendly user interface as well as a detailed guide for first-time users.
Comes with a 4.3-inch screen. The large LCD screen makes it easy for you to preview your scanned images.
Supports HDMI output so you can view scanned images on TV in high definition quality. (HDMI cable is not included out of the box.)
Supports fast loading of films
Supports both Mac and Windows computer
The portable design means you can carry it with you anywhere you go.
Cons
Only suitable for casual users due to its lack of image enhancing software
The internal memory of this scanner is pretty limited.

4. Magnasonic All-in-One 22MP Film Scanner - Link
This All-in-one slide scanner by Maagnasonic is a device that allows you to convert your images and old slides into digital. It supports 35mm, 126kpk, 110, and super 8 films.
It comes with an impressive internal memory of 128MB which is where all scanned images are initially saved before transferring them to your PC or smartphone.
This slide scanner features a decent 2.4 inch LCD, making it effortless for you to view or edit your scanned images.
The magnasonic all-in-one 22MP resolution slide scanner comes in two versions: A 128MB internal memory model as well as a 128MB internal memory + 32 GB external SD card slot. Depending on how much work you intend to do, the choice is yours!
One thing we are sure you will love about this device is the ability to start editing your photos after scanning without the need for any complicated PC software or drivers.
Pros
Supports a wide variety of film formats and can easily convert them to digital files.
Boasts an impressive high scan resolution of up to 22MP. This guarantees high-quality scanned images at all times.
Comes with a decent 128 MB internal memory although you can always expand this if you purchase the model that offers an SD card slot.
Portable and offers fast scanning speed
It has a USB port so you can connect it to your computer. With this, you can transfer photos and other scanned images on the scanner's memory to your PC.
Cons
There are not a lot of customization features on this scanner.

5. DIGITNOW Digital Film and Slide Scanner - Link
If you are looking for a scanner that is portable while still offering great value for money, the low-cost DIGITNOW Film Scanner 22 MP is your best bet.
This device is extremely light and portable which means you can even take it with you wherever you go. it is extremely easy to use and is designed for both professional and casual use.
The scanner is capable of scanning and converting 35mm, 110/126/super 8 film negatives as well as 8 mm film negatives into digital copies (JPEGs).
It comes with a wide 4.3 inch TFT LCD where you can see the photo being scanned. The screen also gives you the ability to edit the photo's color, brightness, resolution, etc. before saving it.
Capable of scanning film negatives and photos at 22 megapixels, this DigitNow Film scanner comes with a 128GB capacity slot where you can insert an SD Card. With this, you can scan as many photos or film negatives as you want without having to worry about running out of storage space.
NOTE: An SD card is not included out of the box.
Asides from having a color LCD, this scanner also supports HDMI. This lets you connect your scanner to your TV and view images in high definition quality. You can also connect the scanner to your Mac or Windows PC before scanning so you can directly save the scanned image to your PC.
Pros
Designed by one of the oldest US brands in the Scanner market - DigitNow. This essentially means you can expect your scanner to be of quality build-out of the box.
Converts multiple film negatives formats to digital copies
Capable of scanning a slide within 3 seconds
Portable
Features a color LCD with which you can preview and edit scanned images or photos.
Supports HDMI connectivity so you can connect your TV to your scanner
Compatible with both Windows OS and Mac
Budget-friendly
Cons
There are cases where this scanner fails to scan a picture correctly.

6. ZONOZ FS-3 22 MP All-in-1 Film Converter Scanner - Link
The Zonoz FS-3 22 MP all-in-1 film and slide converter scanner is the true king of budget slide scanners on this list.
Not only does it come with most of the typical features you will find in a slide scanner such as converting different sizes of film negatives to JPEGs, but it is also very cheap.
It is a stand-alone scanner and does not require a computer to work, hence the "all-in-one" tag it has. It features a 2.4-inch color screen that offers a clear and detailed view of scanned photos or images. It has an amazing scanning quality of 22 megapixels so you don't have to worry about the scanned images not being vibrant or crisp enough.
The device is pretty intuitive to use, especially since it does not come with any unnecessary features. The device comes with an SD card slot which lets you expand the memory up to 16GB.
Pros
All-in-one scanner so you do not have to connect it to your computer before being able to scan
Portable which means you can scan anywhere and at any time provided you have access to an AC power source.
Comes out of the box with a film tray so you can load multiple films and scan them at once
Cons
As portable and versatile as it is, especially being a standalone device, it does not support the use of batteries. This means you can only truly use it if you are close to an AC power source.
Slides larger than 35mm x 22 mm are difficult to scan on this scanner.

7. Plustek OpticFilm 8200i AI - Link
Lastly, we have the Plustek OpticFilm 8200i AI. This professional slide scanner offers you a chance at scanning your films and editing them to perfection.
The first thing that comes to mind when you see this scanner is that it is made only for premium users. It comes with a bunch of high-end features that make it a solid and reliable device to have. This is not so surprising since it is basically a premium upgrade of the famous Plustek OpticFilm 8100. As a result, it comes with everything its predecessor lacks.
The Plustek OpticFilm 8200i AI comes with calibration software for colors. What this does is that it lets you enhance the color of scanned images. Combine this with its built-in infrared sensor that removes dust and scratches, you have a machine that can make any film negative or photo look as good as new!
Asides from the incredibly accurate color replication and consistency of this printer, you also get to enjoy high-resolution scanning. It is capable of scanning at 7200 dpi - making it one of the highest on this list.
The biggest downside of using this scanner is probably its scanning speed since it cost quite a lot of money. There are lots of other film scanners in its price range that offer superior scanning speed. However, the speed is still pretty decent.
For the sharp attention to detail, impressive tonal range, ability to scan multiple films or photos at the same time while also auto-editing them, there is so much reason why the Plustek OpticFilm 8200i AI is worth buying.
Pros
Easy to use
Offers to scan films and photos at the highest resolution possible
Premium image editing software - the SilverFast AI Studio 8 - for advanced editing. This software ensures you can scan films and slides with incredible accuracy and also edit them to get even better results.
Best for professional photographers, graphics designers, and big image enhancement enthusiasts.
Cons
It is quite pricey
Scanning speed is quite slow compared to other slide scanners in the same price range.
There is no built-in monitor. Even though it has a compact size, you always have to connect it to your computer to see or even edit the images.
Buying Guide for the Best Slide Scanner
There is a great deal to think about when buying a slide scanner. Slide scanners come with a wide array of features or advanced functionality that makes it very important to choose the right fit for your work. As not only would buying the right device help you tremendously in your work, it would help you get the best value for money!
That said, below are some of the important things you need to consider when shopping for a slide scanner.
Scan Resolution and Bit Depth

These two are very important since they determine how good your scans look after you are done. Whether you hope to use the scanner as a professional or otherwise, it is still very important to consider this.
Essentially, scan resolution determines how clear or crisp your scans are. To best preserve your old films, you need a device that can scan at least 3200 dpi. On the other hand, if you are only looking to casually preserve your photos, then you can always opt for a scanner with 300 to 1200 dpi.
Bit Depth determines the color quality of your scanned work. The higher the bit depth of the scanner, the more accurate the color quality of your scanned work. For professional use, you want a scanner with at least 30 bits. However, if you are only getting a slide scanner for personal use, 12-24 bit should be good enough.
ii.Scan Speed
Another important factor to consider when buying a slide scanner is the speed at which it can scan a full page. The scan speed is measured in pages per minute. Premium slide scanners can scan films and images very quickly at very high resolution (up to 7200 dpi).
NOTE: The above only applies to slide scanners with a sheet tray. For scanners that you have to manually load, the scan speed greatly depends on how fast you can load in the slides.
Storage
When your slide scanner scans, it automatically saves it on its internal storage. You want to make sure the device you buy has enough space to handle all your scanning work. Some slide scanners even support the use of SD cards as well as other external storage devices so that you don't ever run out of space.
Connectivity Options
This refers to the different ways you can connect your scanner to your PC or your smartphone. Versatile slide scanners come with HDMI cable support, SD card port, Wi-Fi support as well as the traditional USB connectivity found on all scanners.
Price
How often do you plan on using the slide scanner? Will you be using it alone or with other users? The answer to these two questions should give you a good idea of how much you need to spend on a scanner.
Software
How good your scanner's software greatly determines the results of your scanned work. There are tons of them available on the internet. Some scanners require specific software to work while others are compatible with any software you throw at them.
What Is a Slide Scanner ?
A slide scanner is a device that scans photographic slides and converts them into digital images. This allows you to store and view your slides on a computer or other electronic device. There are many different types of slide scanners available, so be sure to choose one that meets your needs. Some factors to consider when purchasing a slide scanner include scan speed, resolution, and capacity.

Benefits of a Slide Scanner
There are many benefits to using a slide scanner. Some of the most important benefits include:

1. Easier organization and retrieval of slides
A slide scanner makes it easy to organize and find your slides, which can save you a lot of time and hassle.

2. Greater image quality
Slide scanners typically offer better image quality than photocopiers or other scanning methods. This means that your slides will look better when scanned.

3. Increased productivity
A slide scanner can help you scan slides faster than other methods, allowing you to get more work done in less time.

4. Reduced wear and tear on your slides
By scanning your slides instead of displaying them, you can help reduce wear and tear on them. This can prolong the life of your slides and help you avoid having to replace them.

5. Increased flexibility
With a slide scanner, you can scan slides in different sizes and formats, giving you more flexibility in how you use them.

6. Enhanced accessibility
A slide scanner makes it easy for others to view your slides, whether they are in the same room or on the other side of the world. This can be helpful for presenting or sharing your slides with others.

7. Increased convenience
Slide scanners are typically very easy to use, which makes them convenient for all types of users. This means that you can start using a slide scanner right away without any difficulty.

As you can see, there are many benefits to using a slide scanner. If you are looking for an easy and efficient way to scan your slides, then a slide scanner is the best option for you.

Types of Slide Scanners
There are a few different types of slide scanners on the market, each with their own advantages and disadvantages. Here is a rundown of the most common types:

Flatbed scanners
These scanners have a flatbed surface where you place your slides. They offer good image quality and are generally affordable. However, they can be bulky and take up a lot of space.

Film scanners
Film scanners use a special film scanning bed to scan your slides. They offer high image quality and can quickly scan large batches of slides. However, they can be expensive and require some technical knowledge to operate.

Slide duplicators
Slide duplicators are designed specifically for making copies of slides. They offer fast, high-quality copying, and are relatively affordable. However, they can be limited in terms of image editing features.

Which type of slide scanner is right for you depends on your needs and budget. But whichever type you choose, make sure to do your research to find the best model for your needs.

Buy them at Etsy, eBay, Walmart (quality guaranteed)
Epson Perfection V850 Pro scanner - Walmart, Etsy, eBay
KODAK SCANZA Digital Film & Slide Scanner - Converts 35mm, 126, 110, Super 8 & 8mm Film - Walmart, Etsy, eBay
Plustek OpticFilm 8200i AI - 35mm Film & Slides Scanner. IT 8 Calibration Target + - Walmart, Etsy, Ebay
Film Scanner and Slide Digitizer - All in 1 22MP Slide Digital Film Slide Scanner, Image - Walmart, Etsy, eBay
KODAK Mini Digital Film & Slide Scanner – Converts 35mm, 126, 110, Super 8 & 8mm Film - Walmart, Etsy, Ebay
Fujifilm Instax Mini Liplay Hybrid Instant Camera - Stone White - Walmart, Etsy, eBay
DIGITNOW 22MP All-in-1 Film & Slide Scanner, Converts 35mm 135 110 126 and Super 8 - Walmart, Etsy, eBay
Canon SELPHY QX10 Portable Square Photo Printer for iPhone or Android, Black - Walmart, Etsy, eBay
Magnasonic All-in-One High Resolution 22MP Film Scanner, Converts 35mm/126KPK/110/Super 8 - Walmart, Etsy, eBay
Canon SELPHY CP1300 Wireless Compact Photo Printer, White - Bundle with USB Cable 6', - Walmart, Etsy, eBay
2PX2255 - Plustek OpticFilm 8100 Film Scanner - Walmart, Etsy, eBay
Kodak Smile Instant Digital Printer - Green with 2ʺx3ʺ Premium ZINK Photo Paper (20 - Walmart, Etsy, eBay
Pacific Image PowerFilm 135 Film Scanner. Auto Batch scan Negative/Positive Filmstrips. - Walmart, Etsy, eBay
Ivation High Resolution 23MP Film Scanner Converts 135, 110, 126, Black and White, Films - Walmart, Etsy, eBay
Kodak Mini2 Instant Photo Printer (Black) Art Bundle + Paper (20 Sheets) + 8x8 Cloth - Walmart, Etsy, eBay
Film Negative Scanner 22 MP 110 135 126KPK Super 8 Negative Photo Scanner 35mm Slide Film - Walmart, Etsy, Ebay
Canon CanoScan 9000F MKII Photo, Film and Negative Scanner, Flatbed - Walmart, Etsy, eBay
Epson Perfection V600 Color Photo, Image, Film, Negative & Document Scanner - Walmart, Etsy, Ebay
Veho Smartfix Portable Stand Alone 14 Megapixel Negative Film & Slide Scanner with 2.4" - Walmart, Etsy, Ebay
Wolverine Titan 8-in-1 High Resolution Film to Digital Converter with 4.3" Screen and - Walmart, Etsy, Ebay
Conclusion for Slide Scanner Buyers
Is there an absolute best slide scanner on the market? Well, the straight answer is no.
The type of slide scanner you choose has a lot to do with personal preference as well as what you intend to use the scanner for.
Being able to digitize golden captured moments is an opportunity one can't just overlook either as a professional photographer or as a casual who loves photography. Just like many gadgets out there that serve a purpose, there are tons of slide scanners to choose from on the market.
To make this selection process easier for you, we have compiled a list of important things you need to take note of.
Remember when choosing a film scanner, think of just how much time it requires to complete each scan, how much it costs, what premium features it offers, what resolution or scan quality it can produce, etc.
Once you can answer some of these questions, there is no way you won't find the perfect slide scanner for you.