Are you getting set to move into your brand-new residence?

Then ready to start wrapping up your belongings!
Whenever it comes to preparing boxes which must be transported across long distances, closing the containers correctly can spare you from such a major accident and a lot of frustration.
For some folks, the entire process is delegated to professional packers.
Others, on the other hand, would rather do the difficult part through their own!
Sealing the boxes with hand packaging scotch tape dispenser is a fairly simple, fast, and efficient means of ensuring that they arrive at their destination undamaged.
The nicest feature about such tape guns is their reusability which saves a lot of time during packing. However, loading the tape can be difficult, especially when you do it for the 1st time.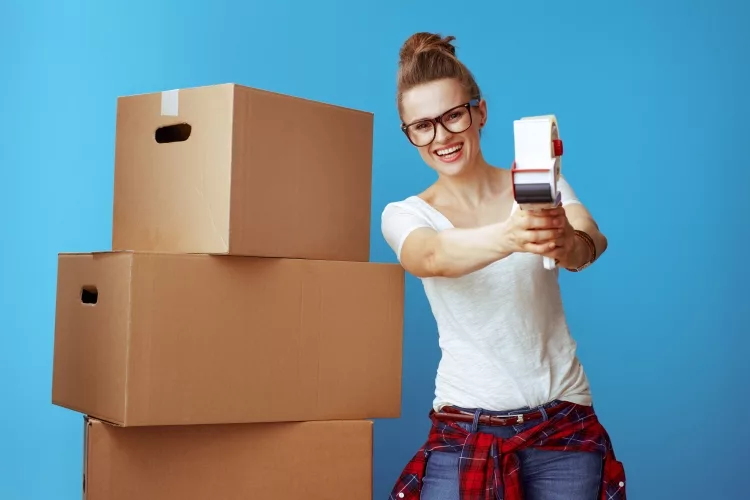 Do you think you'll make a mistake as well?
Don't be bothered! Even if you've had difficulties loading the tape rolls previously, our step-by-step directions throughout this article will help you pack your stuff like a pro.
The dispenser carries rolls of tape but also has a hand brake to make it easier to control. For reusing the dispenser what you need to do is just replace the empty roll with scotch tape refill.
On the marketplace, there are four different types for tape dispensers:
Water-activated dispensers.
Handhelds
Table-top
Automated ones
Handheld versions of these are typically called as the "Tape Guns."
What Is The Purpose Of A Tapes Dispenser?
Usually what people used to do is to peel the scotch tape off from end of it and then cut it using scissors before the invention of tape dispenser.
The usual scotch tape came in handy.
There is, however, a little catch.
The tape continues to cling to itself and As a consequence, whenever you wish to pack another box, you ought to look for the tape's end!
As a result, John Borden, a 3M's sales manager, opted to upgrade the company's conventional transparent scotch tape into a completely new tape dispenser.
The improved version includes a built-in mechanism of cutting that can keep the ends of tape while you set up the dispenser over the next time you need it.
What Is The Best Way To Load A Scotch Tape Gun?
Step 1: Place the roll inside
The first step is to locate the roll tape's end. Then throw it away before putting it on the dispenser.
Place the roll on the dispenser's wheel in such a way that the adhesive end sits against cutting blade.
If you're having difficulties using this, place the dispenser on a plain surface/table for a stronger hold.
Step 2: Remove some of the tape
Remove around 0.25 to 0.5 inch of tape from the roll.
In this situation, keep in mind that the tape is unwound with the sticky side facing downwards.
Step 3: Ensure that the tape is properly threaded
Do you notice the gap between the roller/wheel and the metal gate? The tape roll should be threaded in between those two points.
If the area feels a little cluttered, touch the tab just below guide and stay holding it opened to get a better view.
Remove any excess tape by pulling it beneath the roller and cutting it off. At this stage, make absolutely sure that the sticky side still is facing downwards.
Step 4: Make Dispenser Tension Adjustments
With the serrated blade, roll out roughly 5-6 inches of tape and chop it off. To see if it's operating well, tape a little card box as a test.
In case the tape is unwinding smoothly! You're ready to go! If not, proceed to the next step.
If it isn't rolling out smoothly, the dispenser's tension needs to be adjusted. To do so, screw the nut just on the spindle clockwise direction and readjust to your needs.
Step 5: Roll the Tape Out Smoothly
At this stage, the tape should be rolling out smoothly. However, if you've tightened the spindle too much, it's a great idea to release it just enough to make unwinding more pleasant.
Helpful Hints to Make Your Job Easier
See how simple it was?
This method allows you to fill your tape gun in a matter of minutes!
Although, there are also some precautions you should consider and some guidelines you should implement to achieve the greatest results.
Let's have a look first at guidelines we've put together for this!
Do not use the tape right away after loading it onto the wheel/roll! Instead, try a test run to determine either the dispenser is correctly filled and set or not.
Continue tightening and relaxing the bolts till the tape is evenly smoothed out. You need more scotch tape than needed if the spindle is still slightly loose.
If you're going to start a large project, get a new roll rather than an old one so that you wouldn't have to leave in the middle of the process and wasting time & effort looking for another.
The blade of the cutting blade is quite sharp. So, be cautious when using and adjusting the dispenser's tension.
We recommend cutting at least 1-2 inches of additional tape to make the final cut smooth and even instead of cutting yourselves on the serrated blade.
Putting It All Together
Cutting and applying scotch tape at the same time may require more than two hands. You can do it all by yourself with tape dispensers! It facilitates your work by assisting you in cutting tapes and packing boxes in a more effective manner.
Furthermore, if you do not even know how to properly reload a scotch tape gun, the task may probably waste a significant amount of your time.
That's why we've compiled all of the pertinent information and provided a step-by-step tutorial to ensure that the tape dispenser seems to be ready to use when you need it most.