The development in ink and printer technology has made it easy to print on canvas today. No matter the kind of images or artwork you want to display, canvas prints are the way to go. They are an eye-catching way to depict your skills and knowledge.
This technology has significantly evolved over the years. Days are gone when many artists would reproduce their work on canvas. Photos would only be transferred to canvas by a professional specializing in photography.
The good news is that you can print on canvas stress-free, embracing today's technology. However, if you are doing it yourself or for the first time, you may find it challenging.
Don't stress at all. You can do it yourself and produce high-quality prints on canvas. Notably, you have to use natural canvas and not paper.
The biggest surprise to me and many other artists who fancy printing is printed canvas can be framed for wall mounting or other applications. Even though there is a perception that printing on canvas is a daunting task, there is a lot to achieve.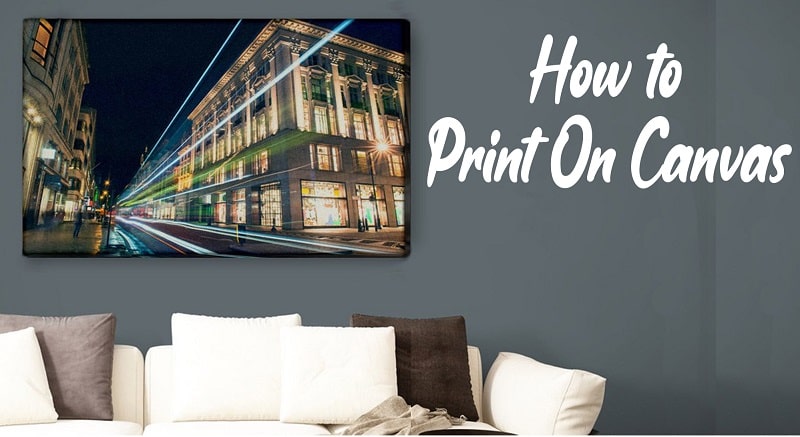 The key to producing quality and unique canvas prints is to find out what the entire technique and process entails. Below you will find everything about how to print on canvas and excel in your endeavors.
What Canvas is made of?
You have probably asked yourself, what is canvas made from? Canvas is made out of cotton and linen fibers. These two fabrics are woven together to create durable, heavy-duty, and sturdy plain-woven fabric.
Cotton prints are high-quality and last longer as compared to more vivid polyester prints. Mixing canvas with synthetic fibers yields good results. You will have a unique, versatile, and high-quality outdoor fabric that is also water-resistant.
Cotton is a favorite choice to make the best canvas sheets. It is easily coated with high-resolution inkjet coating to make the best canvas prints you may have seen. The coating will ensure that your photo displays the full spectrum of colors without staining it. Hence, the canvas is an excellent material for artistic printing purposes.
What is a Canvas Print?
For many decades ago, the painting was the only available treatment for canvas, but this is no longer the case. You can create canvas prints today at home with the right tools and materials. Probably, you are wondering, what is a canvas print?
A canvas print is a photo printed onto canvas using an inkjet printer. It would be best if you don't confuse these prints with a canvas painting. Once you have printed your canvas, it is stretched onto a frame and artistically displayed.
Canvas prints at all times bring to mind an artistic feel. Many people use them as the final output for fine art pieces to primarily evoke aesthetics or beauty. Others use them for the reproduction of paintings, drawings, or photographs.
You won't get it wrong if you settle for cotton canvas prints, as they even provide a more versatile approach when decorating. Here are few factors that make it easy and worthwhile to create canvas prints. Have a look:
The printed image is permanent
Your photos won't have a reflection or glare
They provide a versatile texture that adds color depth to your prints
Lightweight and durable
Come in the traditional matte finish and are glossy
They are affordable, especially if doing large prints
Guide on How to Print on Canvas- Factors to Consider
In essence, canvas prints have gained popularity over the years and are great for modern contemporary homes. Canvas prints suit digital printing, and it's not that easy to come up with your masterpieces.
There is a lot to know and do to produce high-quality and authentic canvas prints. Here are a few things to keep in mind before you print on canvas.
Image Quality
Your image should be of suitable and sufficient resolution. You have to come up with a high-quality file or photo to print. The picture you settle for should be the right size to make a meaningful print.
You have to ask yourself, is the image good enough to print on canvas? So how do you know that the image size is right? The size of the image you choose depends on the size of the canvas you want to print.
The resolution of the image is also significant. You will need to use a photo with a high resolution to print on canvas. Therefore, check the size and resolution of the image you want to use, and the results will be fantastic.
Photo Subject Matter and composition
You should be considerate about the type of photo you want to print and more so on canvas. Before printing any image, it is worth asking yourself why you want to print it on canvas. Check whether it's in focus and good enough for the project at hand. Besides, ensure the photo has a suitable composition for a canvas.
Canvas Print Style
The style of the print will result in a fantastic image on the canvas. For instance, you can decide to print a single image or a collection of photos on canvas. Think about the shape of the image you want to print.
You can settle for either a portrait, landscape, square or panoramic. Ensure the image you pick will occupy enough space on the canvas. It should also contrast perfectly with other features of the picture.
Print Quality
If you seek printing services elsewhere, it's wise to inquire about the canvas and print quality. Inquire about the type of printing technology the company will use, types of canvas, types of inks they use, and much more. Above all, it is the type of canvas the service provider will use that matters most.
Finishing Details/Touches
The final product printed on the canvas should be flawless. The canvas print should be tightly wrapped or stretched. It should be consistent and even all through.
Ensure the corners of the print on canvas look good and well-finished. They shouldn't be irregular but perfectly folded. The canvas prints should be neat and not bulky.
The print on canvas should be consistent, uniform, and tightly stretched. Your final canvas prints should look beautiful and hang flawlessly.
Printing on Canvas Hassle-Free
It shouldn't take you a lifetime to learn how to print on canvas. With the right information at your fingertips, determination, and diligence, you can fruitfully produce aesthetically pleasing canvas prints. In light of this, here is how to achieve high-quality and appealing images on canvas.
Select the Right Canvas Material
Canvas materials come in wide varieties, and you should choose the best. The canvas you select should work perfectly for the project you have at hand. They should come in varying quality and textures.
The canvas you settle for should be specially designed for use with an inkjet printer. For example, choose a gloss canvas as it creates incredible work of art you will, without a doubt, fall in love with. Pick UV-resistant canvas if you are undertaking outdoor printing.
Matte canvas is an excellent choice for printing high-contrast images as it offers a low glare finish. Satin canvas is a superb material specially coated for inkjet printing. And the results are stunning and rich with different shades of colors.
Search for the Right Images to Print
Once armed with the best canvas material, search for digitized art prints. You can visit different art supply shops, museums, and galleries. You will know what these stores offer. Pick a fine art you find suitable for your new canvas print.
Ensure the samples you get a high-quality and printable image with good clarity. The size should also be right for your canvas print. Alternatively, you can find a few photos on your laptop and use them in your project.
Select the Right Printer
It's a fact that painting is no longer the only available method to create impressive artworks. Today, you can create remarkable canvas prints at the comfort of your home or workstation with a top-notch inkjet printer. It's the right equipment to get you the best results.
Inkjet technology makes it easy to print on canvas. It guarantees quality and perfection. However, you should check the ability of your printer to handle canvas. It's imperative to match your canvas with the right inkjet printer and one that you can use competently.
Now, you can go on and load your printer. Follow a few steps:
Use the rear manual feed slot on the printer. It will help utilize the whole printable area of each canvas sheet. These feed slots on the back of your inkjet printer can handle thick canvas sheets.
Add the leader strip of paper to your canvas. It will help feed the canvas to your printer. Ensure you get the size of the canvas right to know the number of strips to use.
On your computer, try and correctly set the document to accommodate the extra strip inch.
Printing Your Picture on Canvas
Before you start printing your artwork on canvas, pick the right side to print. But how do you determine the right side of the canvas you will print on? Universally, most canvas manufacturers will add a watermark on the side that shouldn't get printed on.
If your canvas doesn't have such a feature, fret not. Run your fingertips over the select canvas material. If it feels rough or has texture, then that's the right side to print on. Pick the shiny side if it doesn't have a texture for printing.
Now you can go on and print on the right side you have selected on the canvas. Here are steps to follow:
Turn on the printer- Ensure there is enough ink and in the colors you want.
Feed the canvas into your inkjet printer- Start by inserting the leader side. Ensure the paper is facing up and it's going in perfectly straight.
Set up your feed- Ensure the printer is well set up, so it feeds in the approved manner. Check every detail on the picture and printer. Everything should be perfectly set up, and you are ready to go.
Print your work- You don't want your canvas to stain, so let it dry before touching it. Once it has dried, wrap a piece around the frame to create a stretched canvas and outstanding artwork.
Wrapping Up
Printing on canvas is not a daunting task or experience if you have the skill sets and know-how. It is the best way to create aesthetically pleasing arts and enhance décor styles. As an artist, take the initiative and gather vital information about printing on canvas. You will cherish the special moments and rewards this experience brings forever.